Shows
Les Poules à Colin
South Coast Folk Club presents Les Poules à Colin - Concert starts at 8pm, doors open at 7pm. Fully seated - cabaret style. Parking on site. Licensed bar - byo supper/nibblies.
Taking their name from a popular traditional song, Les Poules à Colin are a new take on a time-tested recipe –five childhood friends who still live on the same street, sharing a history of music-making and family ties. Les Poules are a dynamic and creative group that turn heads wherever they go. Exposed to Québécois and other folk music from the moment they were hatched, these offspring of trad musicians were immersed in music, they have grown up with and learned their craft firsthand from some of Québec's finest, whether backstage at international festivals or at lively kitchen jams in Lanaudière, arguably Québec's most musical region. The five members of « the latest and youngest band out of the hot Québécois traditional music scene » (fRoots) are entrancing and sparkle with unpretentious, natural talent and respect for their repertoire – including beautifully arranged original and folk-trad songs and tunes. The group's sound is a seamless blend of their strong folk upbringing and North American influences that range from old-time to jazz, with some provocative and moody effects. Their repertoire is a mix of original and traditional pieces, primarily in French but with some English compositions, and it reveals gorgeous vocal, instrumental and rhythmic prowess. Their adaptations of traditional songs speak eloquently to their generation while retaining the timeless beauty of their musical heritage. Fiddle, guitar, bouzouki, banjo, mandolin, piano, bass and foot percussion form a rich and varied backdrop for inventive arrangements.
Despite their youth they've already been together for more than six years, and have blossomed into intuitive performers. They've graced the stages at major venues in Canada and the US, such as The Winnipeg Folk Fest, Festival de la Chanson de Tadoussac, Chants-de-Vielles, Festival Mémoire et Racines, POP Montréal with their first album, recorded with a grant from the Lanaudière Youth Fund and the Québec Arts Council (2011).
Entry is $20 ($15 conc) - byo supper/nibblies, drinks available at the bar at club prices.
Our 2016/2017 Concert Series is supported by the City of Onkaparinga.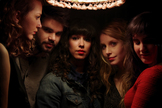 This event has completely sold out!