Shows
Floating Melodies: Good Girls Guide to Aussie Rock
Back by popular demand, and for Mother's Day and the history festival, a musical love-fest that transcends music era and expectations. Join good girls Verity Colyer, Tahlia Ries and Monique Watson as they take you through their guide to Aussie rock and roll - especially adjusted for Mother's Day and for History Month! These classical fangirls share these classic rock songs with as much love as they share a Mozart aria, and that's a LOT of love! Accompanied by Cameron Oosterbaan.
There will be delicious South Australian produce, wine, cider and soft drinks will be onboard to spoil all the mothers too! All food and one beverage is included in your ticket price. Boarding takes place at Elder Park Popeye Dock ten minutes before the cruise start time.
Tickets are:
Adult $40
Group of 6 $37
Conc $34
Tickets include concert, cruise, food and one beverage!
*Please note this performance carries a language warning! and the stage is at the top of the page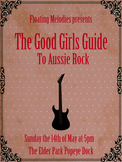 This event has completely sold out!