Shows
EDWINA HAYES with THE FIDDLE CHICKS
TRINITY SESSIONS PRESENTS EDWINA HAYES (UK) with THE FIDDLE CHICKS. MUSIC 6PM DOORS 5.30PM. Fully seated. General admission. Licensed bar and food by Little Seeds Catering.
Edwina Hayes beautifully written songs, charming stage presence and voice of an angel have won her a reputation as a true natural talent of gentle folk-Americana. She has opened numerous shows for Jools Holland and Van Morrison as well as her own gigs playing stages everywhere from Glastonbury Festival to The Royal Albert Hall. Edwina numbers Michael Parkinson and Mike Harding among her fans and the title track of her album Pour Me A Drink was covered by Nanci Griffith who calls her 'the sweetest voice in England'.
Her cover of the Randy Newman song Feels Like Home was featured in the Cameron Diaz film My Sister's Keeper and has since had over six million plays on You Tube.
Edwina is often invited to guest on studio albums and support major artists on tour and as well as touring with Jools Holland, Van Morrison and Nanci Griffith, Edwina has also toured with artists ranging from Loudon Wainwright and Roger McGuinn to KT Tunstall and Gretchen Peters.
Edwina was born in Dublin and grew up in Preston, Lancashire before moving to the East coast of Yorkshire as a teenager, where she has been based ever since. Dividing her time between the UK and America, Edwina's second home is Nashville where she is much loved as a songwriter and artist.
Like her first album 'Out on My Own' her second album 'Pour Me A Drink' was released to critical acclaim. Much more stripped down and acoustic, Nanci Griffith covered the title track and Edwina's version of Feels Like Home was played in full in the major motion picture 'My Sister's Keeper' starring Cameron Diaz and Alec Baldwin. Edwina followed in the same style with her third release 'Good Things Happen Over Coffee' and touring constantly continues to attract wonderful reviews and fans worldwide.
Edwina toured as support with Fairport Convention on their UK Wintour 2014 and her Abbey Road Live Here Now album will be released later in 2014.
The Guardian - 'Edwina is a haunting honeyed solo songwriter'
Nanci Griffith - 'The sweetest voice in England. A wonderful young woman, so gifted and full of song'
The Fiddle Chicks are Dee Trewartha and Emma Woolcock. With only their two fiddles, bass fiddle and stomp boxes they create a unique musical experience for audiences at Festivals and events throughout Australia.Their unique minimalist sound is strong, energetic and vital. From their inspiring originals to unique arrangements of songs from the rich heritage of folk music, The Fiddle Chicks have proven themselves to be one of SA's most endearing and original acts.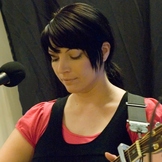 This event has completely sold out!