Shows
Life Lessons with Michelle and Gemma
Life Lessons With Michelle & Gemma is an exploratory and interactive stand up show
written and presented by two members of Melbourne's own Aardvarks Anonymous.
Michelle and Gemma explore the complexities of life, love and pop rocks to give
you the ultimate and unequivocal rules to live by, so there's no more confusion.
Theories will be tested to their limits, preconceptions smashed to smithereens and
hypotheses either proved or disproved in this fast-paced, whimsical and ultimately
hilarious show.
Drawing on years of friendship, amusing experiences and wildly varying approaches
to life's challenges, Michelle and Gemma ask you to help them come to a conclusion
about these thorny issues for the good of humankind.
Coming off sell-out shows in the 2012 and 2011 MICF, Aardvarks Anonymous is
flexing their comedic muscles with this fresh, female duo. Directed by the multi-
award winning Karin Muiznieks this is not a show to be missed this festival.
"Affably, cheesy and geeky." - Farrago
"Aardvarks Anonymous are a group with passion, talent and drive." -
Bon-Vivant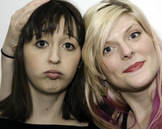 This event has completely sold out!