Shows
ANIL DESAI's ANOTHER NIGHT AT THE MOVIES
**** The Herald Review 2013
***** International Student.Com
***** Yawp
**** Whats On
http://m.heraldsun.com.au/entertainment/special-reports/review-anil-desai-in-another-night-at-the-movies/story-fncv4qxa-1226609426097
http://whatsoncomedy.com/review-anil-desai-in-another-night-at-the-movies/
Following his 2012 hit show 'Night at the Movies' the UK's funniest and fastest globe-trotting impressionist turns up the laughs once again, as he wrestles with his love of movies and the on-screen characters taking over his personality and life in this action-packed stand up comedy show.
So roll out the Red Carpet and join Anil as he twists, turns and transforms* himself into our favourite movie stars from Samuel Jackson, to Tom Cruise, Al Pacino, Bill Cosby, Homer Simpson, Jim Carrey, Family Guy, Jack Nicholson and many many more.

Featuring new live movie trailers, celebrity anecdotes, stories, audience cameo's and an all star cast of impressions!
*Warning: THIS SHOW CONTAINS ACTUAL PHYSICAL MORPHING WHICH SOME VIEWERS MAY FIND HILARIOUS
Highly entertaining…an accomplished act…must be seen to be believed"
* * * * ½ The Herald Sun (MICF 2012)

"A Tour-de-force of impressions...side-splittingly funny....his ability to change his face, voice and physicality is undeniably astounding"
* * * * Edinburgh Guide

"...an incredible display of this man's extraordinary talent for impressions…a highly enjoyable act…it's stunning to see such talent for mimicry"
The Pun (MICF 2011)
VIEW CLIP OF ANIL IN ACTION:
http://www.youtube.com/watch?v=HEYApdJDltQ
ABOUT ANIL:
Since performing his awe-inspiring and record-breaking '52 impressions in 5 minutes' routine in 2009, Anil Desai has spent the last 4 years performing all over the UK, and on many of the worlds best stages incl. The Comedy Store, Late & Live, Spank! Late Laughs, The Udderbelly, The Spiegel Tent, The Wellington Opera House, Her Majesty's Theatre London at the Melbourne, Sydney, New Zealand, Edinburgh and Ireland International Comedy Festivals where he performed his hit solo shows 'Stand Up Chameleon', "Hey, Impressions Guy!" and 2012's 'Night at the Movies'.
Along the way, he has appeared on numerous TV & radio shows and featured on many international comedy tours from South Africa to India through South East Asia, Slovenia, the Netherlands, and even Germany! He regularly appears at some of the UK's biggest summer music festivals including Latitude, Bestival, Splendour Fest, Chilli Fest and the Electric Picnic (Dublin).
As seen on
CH9's "Hey, Hey, it's Saturday!"
TVNZ's Good Morning, 4Live, Asia Down Under
BBC's Goodness Gracious Me, How to Impersonate, Doctors, Dick & Dom's Diddy Movies
ITV's Headcases, The Bill, Comedy Cuts
Ch4's Public Eye

THERE ARE 2 WAYS TO PURCHASE TICKETS FOR THIS SHOW:
1. BUY YOUR TICKETS HERE direct from Dramatix online
ONLY $20 full price adults / $15 (conc for students only) & TAT
*GROUP DISCOUNTS FOR 10 or more Online only - $18 Saving you $2 per ticket (not avail on Conc price Tix)
2. ON THE DOOR FROM THE VENUE (*Limited availablity each night from 7:15pm)
The Venue: WORD WAREHOUSE - 14 - 18 Goldie Place, Melbourne CBD word@wordevents.com.au
ph. 03 9606 0611 - *Food, cocktails, beer garden and Wheelchair access is available

NOTE*Student concession purchases must have valid proof of ID on arrival or you maybe charged the extra cost. (Some Adult language and themes are used in the show - under 15's not allowed)
Thanks for supporting live comedy, see you at show!!
For more info, pics and updates or just to say 'G'day' Follow Anil on
Twitter: anildesaicomic
Facebook: Anil Desai official fan page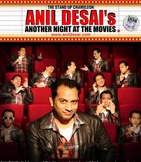 This event has completely sold out!