Shows
Remembering the Legends
" REMEMBERING THE LEGENDS "
In the first half of the show, these three exciting entertainers will bring you their own unique styles of Music & fun.
The show opens with South Australia's own Nathan Bruhn, our very own "Rising Star of the Future". Apart from singing, song-writing and helping on the family farm at Eudunda, S.A., Nathan works tirelessly raising funds for the Make A Wish Foundation of Australia.
The next act on stage will be Kinta, the bubbly song-bird from Geelong, Victoria.
Kinta "The Southern Songbird " is well known for her fine performances and bubbly personality. Apart from her varied performances Australia wide, Kinta also performed on several shows in America as part of Craig Giles "Music Tour Of America."
Then internationally acclaimed Craig "Mr Versatile" Giles, will hit the stage with his energetic, fun packed style of entertainment. Craig's versatility shines on his annual American Music Tours where he performs everything from Evergreen Classics, Country, Gospel and Rock'n'Roll.
Craig is both Nationally & Internationally acclaimed. He is a multi-award winning recording artist with a string of successful singles & albums to his credit. Craig tours extensively, including his annual "Music Tour of America" each October.
Craig & Kinta are two of Australia's most popular and travelled entertainers and their music and on-stage antics have been enjoyed both Nationally & Internationally.
The second half of the show will be Tributes to three of the "greats" of country music...Johnny Cash, June Carter & Patsy Cline.
This show sold-out in record time in Tamworth four years running so get your tickets early.
The artists will have their albums on sale at the show.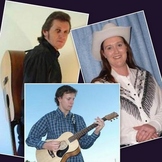 This event has completely sold out!