Shows
ARLO GUTHRIE with SARAH LEE GUTHRIE AND JOHNNY IRION
TRINITY SESSIONS presents ARLO GUTHRIE with SARAH LEE GUTHRIE and JOHNNY IRION Doors 7.00pm Music 7.30pm ONE SHOW ONLY
Arlo grew up surrounded by dancers and musicians: Pete Seeger, Ronnie Gilbert, Fred Hellerman and Lee Hays (The Weavers), Leadbelly, Cisco Houston, Ramblin' Jack Elliott, Sonny Terry and Brownie McGhee, all of whom were significant influences on Arlo's musical career. Guthrie gave his first public performance in 1961 at age 13 and quickly became involved in the music that was shaping the world.
Arlo practically lived in the most famous venues of the "Folk Boom" era. InNew York Cityhe hung out atGerdesFolkCity, The Gaslight and The Bitter End. InBoston's Club 47, and inPhiladelphiahe made places like The 2nd Fret and The Main Point his home. He witnessed the transition from an earlier generation of ballad singers like Richard Dyer-Bennet and blues-men like Mississippi John Hurt, to a new era of singer-song writers such as Bob Dylan, Jim Croce, Joan Baez, and Phil Ochs. He grooved with the beat poets like Allen Ginsburg and Lord Buckley, and picked with players like Bill Monroe and Doc Watson. He learned something from everyone and developed his own style, becoming a distinctive, expressive voice in a crowded community of singer-songwriters and political-social commentators.
Arlo Guthrie's career exploded in 1967 with the release of "Alice's Restaurant", whose title song premiered at the Newport Folk Festival helped foster a new commitment among the '60s generation to social consciousness and activism. Arlo went on to star in the 1969Hollywoodfilm version of "Alice's Restaurant", directed by Arthur Penn.
With songs like "Alice's Restaurant", too long for radio airplay; "Coming intoLos Angeles", banned from many radio stations (but a favorite at the 1969 Woodstock Festival); and the definitive rendition of Steve Goodman's "City ofNew Orleans", Guthrie was no One-Hit-Wonder. An artist of international stature, he has never had a 'hit' in the usual sense. He has usually preferred to walk to his own beat rather than march in step to the drum of popular culture. Over the last four decades Guthrie has toured throughoutNorth America,Europe,Asia,AfricaandAustraliawinning a wide, popular following.
Arlo is supported on this current tour by husband and wife duo, his daughter Sarah Lee Guthrie and Johnny Irion.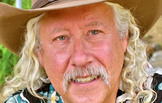 This event has completely sold out!